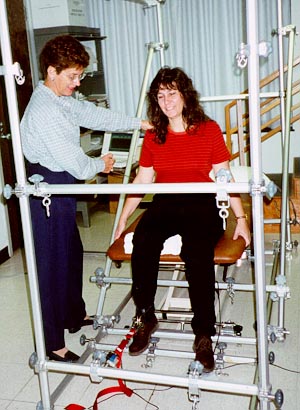 Illustrated is the setup for right knee flexion testing. A strain gauge (analog transducer) has been placed in the path of the exertion attached to a non-elastic nylon strap, secured at one end to a
traction frame, and the other to the patient, via a testing cuff. Utilizing an electric table (plinth), and an adjuster on the nylon strap, limb positioning,
joint angle, and force vector for testing a particular muscle is held constant for every patient. Each muscle contraction produces a force versus time curve in the form of analog data that is digitized
and placed in a continuing database.
Peak strength, area-under-curve, rise time and co-efficient of effort are all analyzed.
Acquired data may be compiled, queried, and exported to MS Excel for further analysis.

Patient Progress Report may be utilized to initially evaluate and longitudinally document the patient's efforts to an expected "normal" based on gender, age and BMI.